Algoma/Starec Blahnik family

ANTON BLAHNIK, Sr.
b. July 20, 1859, Algoma, WI; d. October 30, 1907, Algoma, WI.
Son of George Blahnik 1813-1894 Algoma/Starec Family



Photo to left is of Anton and Mary (Pribyl) Blahnik taken in about 1888. (Contributed by Thomas Kolarik)

ANTON5 BLAHNIK (
GEORG4, GEORGIUS3,
JACOBUS2, WENCESLAUS1)
was born July 20, 1859-June 13, 1862 in Algoma, WI, and died October 30, 1907 in Algoma, WI (Source: Kewaunee County Records - Deaths, vol 1 pg 15.). He married MARY PRIBYL January 22, 1884 in Kewaunee County, WI (Source: Kewaunee County marriage records B 086), daughter of JOHN PRIBYL and MARY DUFEK. She was born 1868 in Bohemia, and died May 08, 1936 in Algoma, WI (Source: Kewaunee County Records - Deaths, vol 10 pg 500.).
Anton's birth year seems to vary by source: June 13, 1862
Photo of Mary Pribyl Blahnik taken
at 1915 family reunion

More About ANTON BLAHNIK: Cause of Death: fell from a wagon, Occupation was Farmer
More About MARY PRIBYL: Cause of Death: Apoplexy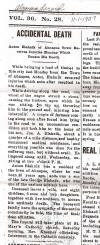 Anton died in an accident at the age of 48 in 1907:
From the ALGOMA RECORD Vol 36. No 28, Nov. 1, 1907 (Wisconsin)

ACCIDENTAL DEATH
Anton Blahnik of Ahnapee Town Received Injuries Monday which soon after resulted in this death.
-------------
While bringing a load of timber to this city last Monday from the Town of Ahnapee, Anton Blahnik received injuries which soon after resulted in his death.

While driving along the road, one wheel of the wagon struck a stone, causing the timbers, upon which he was sitting, to tip up, throwing him to the ground and injuring him internally. A couple of farmers coming along soon after found him lying in the road in an unconscious condition and took him to the home of his son, Jos. A. Blahnik, about a quarter of a mile distance, and hastily summoned medical assistance, and everything possible was done for the suffering man, but without Avail. He lingered along until Wednesday, expiring at two o'clock P.M.

Anton was a resident of the town of Ahnapee, where he was born 48 years ago, and was a son of the late George Blahnik, who was one of the earliest settlers here.

Deceased leaves a wife, and eight children, 6 sons and two daughters, together with five brothers, to mourn his untimely death. The bereaved family have the sympathy of the entire community in this, the time of their deep affliction.

The funeral will take place at St. Mary's Catholic Church, Saturday morning, Rev. Kraemer officiating. Interment in the Catholic Cemetery.



From the ALGOMA RECORD HERALD 5/15/1936 (Wisconsin) for his wife Mary Pribyl
MRS. BLAHNIK DIES; LAST RITES MONDAY
Native of Bohemia Passes Following Two Weeks' Illness Friday
_____________
Following an illness of two weeks before which time she had been in apparent good health and active, Mrs. Anton Blahnik, 68, died at the Blahnik homestead in the Town of Ahnapee Friday afternoon at 1:30 of apoplexy.
Funeral services were conducted Monday morning, at 9 o'clock from the home and 9:30 fro the Immaculate Conception church with the Rev. Msgr. William Kraemer in charge. Burial was in St. Mary's Cemetery. Pallbearers were six nephews, George, Jacob J. Charles, Math, Simon and Anton Blahnik.
Mrs. Blahnik was born in 1868 in Bohemia the former Miss Mary Prybl. When she was three years of age the Prybl family emigrated to America and settled at Stangelville. It was here that she married Anton Blahnik in 1885. Following their marriage Mr. and Mrs. Blahnik moved to Ahnapee town and settled on a homestead wehre she lived until death. Mr. Blahnik passed away 28 years ago.
Nine children were born, seven of whom survive. They are Joseph, Casco; Jacob A., Albert, Daniel, and Ed, Town of Ahnapee; Mrs. Ed Schmelzer, Slovan. Also surviving are two brothers, John Prybl, Stangelville, and Wencil Prybl, Kewaunee, and one sister, Mrs. Joseph Steinberger, Stangelville.

PRIBYL FAMILY
Pribyl descendent, Mary Sue Hostak Kakefuda commissioned some research in Czech in 2013. The Pribyl family came from just a few miles from Anton Blahnik's family.
Mary Pribyl was from Mrakov, only a few miles east of Starec (Straz). The Pribyl family lived at Mrakov #39. The building no longer stands. The family lines was traced back to the late 1700's with Jan and Mary Pribyl shown below:
Descendants of Jan Pribyl
1 Jan Pribyl
.. +Maria Unknown
...... 2 Petr Pribyl b: November 26, 1813 in Farmer Mrdakov #39
.......... +Marie Unknown
............... 3 John (Jan) George Pribyl b: 1842 in Mrakov (Mrdakov), Bohemia d: 1920
................... +Mary Dufek b: 1845 in Bohemia m: May 28, 1870
........................ 4 Mary Pribyl b: Bet. March 1866 - 1868 in Mrakov, Bohemia d: May 08, 1936 in Blahnik Homestead, Ahnapee, WI Immigration: 1871 With parents and settled at Stangelville
............................ +Anton A. Blahnik b: June 13, 1862 in Ahnapee, Kewaunee Co., WI m: January 22, 1884 in Stangelville, Kewaunee Co, WI d: October 30, 1907 in Algoma, WI
........................ 4 Vaclav James Wencil Pribyl b: September 03, 1866 in Kewaunee County, WI d: 1939
............................ +Catherina (Kate) Hallada b: December 17, 1874 m: July 18, 1896 in Ahanapee, Kewaunee, WI d: February 28, 1965
........................ 4 Bartholemew Pribyl b: 1875 in Franklin Township, Kewaunee County, WI
........................ 4 John Pribyl b: June 05, 1878 in Kewaunee County, WI d: October 17, 1956 in Manitowoc Co. WI
............................ +Mary (Svajner) Schweiner b: April 12, 1882 in Luxemberg Rt 3, Montpelier, Kewaunee Co, WI m: Oct 25, 1902 in St. Lawrence Cath Church, Stangelville, WI d: Nov 15, 1972 Manitowoc, WI
........................ 4 Anna Pribyl b: 1883 in Kewaunee County, WI d: January 1956 in Kewaunee County, WI
............................ +Joseph Steinberger, Sr. b: 1880 d: April 1966

BLAHNIK DESCENDANTS:

..1

Georg BLAHNIK born November 08, 1813 Starec #17

Bohemia d.March 31, 1912 Ahnapee, Kewaunee Co. WI
...... +Katerina Blaha b. Apr 19, 1814 Hradiste #17, Parish of Lsteni, Bohemia d. Mar 7, 1892

Ahnapee, Kewaunee Co. WI , Feb 10, 1834

Parish Lsteni, Bohemia


..... 2 ANTON BLAHNIK, Sr. b: Bet. 1859 - June 13 1862 in Ahnapee, WI, USA d: Oct 30, 1907 Algoma, WI
.........+Mary Pribyl b: Bet. 1863 - March 1867 BOHEMIA m: Jan 22, 1884 Kewaunee Co, WI d: May 08, 1936 Algoma, WI
............ 3 Joseph Anton Blahnik b: Jan15, 1885 Ahnapee, WI d: July 28, 1940 Algoma, WI
............... +Elizabeth (Lizzy) Halada b: Apr 13, 1883 Algoma, WI m: Dec 10, 1903 Menominee, MI d: March 04, 1959 Chicago, IL
............ 3 Anton A. Blahnik, Jr. b: Jan 07, 1887Ahnapee, , WI d: Dec 03, 1921 in Algoma, WI
............... +Barbara (Scheisser) Schiesser b: Nov 16, 1887 Ahnapee, WI m: June 20, 1917 Forestville, WI d: Jan 11, 1973
............ 3 Annie Maria Blahnik b: April 25, 1889 Kewaunee County, WI d: May 04, 1897
............ 3 Jacob Anton Blahnik b: July 25, 1891 Ahnapee, WI d: April 02, 1955 Algoma, WI
............... +Henrietta L B Krueger b: Sept 17, 1902 Ahnapee, WI m: Feb 15, 1926 Algoma, WI d: Dec 15, 1972 Algoma, WI
............ 3 Mary B. Blahnik b: Sept 24, 1893 Ahnapee, WI d: Oct 11, 1964 Algoma, WI
............... +Joseph Halada b: Sept 12, 1889 Ahnapee, WI m: Nov 17, 1915Algoma, WI d: Mar 11, 1976 Green Bay, WI




............ 3 Albert Raymond Blahnik b: Apr 19, 1896 Ahnapee, WI

(Source: Kewaunee Co Records -Births, vol 2, pg 177.); d: Feb 21, 1958 Kewaunee Co, WI

(Source: Kewaunee Co Records - Deaths, vol 16 pg 195.)




............ 3 Daniel Blahnik b: July 16, 1898 in WI d: June 24, 1948 Green Bay, WI
............... +Emily Zirbel b. 1913

m. July 30, 1938

(Source: Kewaunee County Records - Marriages, vol 8 pg 495.)


............ 3 Helen Blahnik b: Aug18, 1900 in Kewaunee Co, WI d: Aug 13, 1983 (Kewaunee County Records -Births, vol 26, pg 246.)
............... +Edward Schmelzer b: Feb 20, 1896 Maplewood, WI m: June 26, 1919 Algoma, WI d: Sept 12, 1975
................... 4 Sylvester J. Schmelzer
...................... +Mary Unknown
................... 4 Dolores M. Schmelzer b: July 18, 1922 Forestville, WI d: May 18, 2005 Manitowoc, WI
...................... +Clayton Junion
............. 3 Edward J. Blahnik b: Sept 27, 1906 Ahnapee Twp, WI d: Aug 03, 1954 Algoma, WI
............... +Rose L. Coppersmith b: Aug 22, 1906 in Green Bay, WI m: May 18, 1926 Kewaunee Co, WI d: Dec 15, 1991
................... 4 Delores Mary Blahnik
...................... +Lawrence Jeanquart b: April 19, 1921 Union, WI m: Nov 19, 1943 Algoma, WI d: Aug 10, 2001 Algoma, WI
........................... 5 Larry Jeanquart
................................ +Donna Melhtretter
...................................... 6 Michael Jeanquart


..........................................+Kay Unknown


..............................................7 Kendra Jeanquart


..............................................7 Nathan Jeanquart


...................................... 6 Michelle Jeanquart
..........................................+Jay Paska
........................... 5 Gail Jeanquart
................................ +Richard Franks

Daniel Blahnik b: July 16, 1898 in WI d: June 24, 1948 Green Bay, WI
1915 reunion photo
Stone at St. Mary's Cemetery, Algoma, WI
WWI Draft Reg 9/12/1918, Farmer
Brown Eyes, Dark hair


Helen Blahnik b: Aug 18, 1900 in Kewaunee Co, WI d: Aug 13, 1983

1915 Reunion photo

Edward J. Blahnik b: Sept 27, 1906 Ahnapee Twp, WI d: Aug 03, 1954 Algoma, WI

1915 Reunion Photo
http://ftp.rootsweb.com/pub/usgenweb/wi/kewaunee/newspapers/groom2449.txt
Marriage index by groom 1924-1949, Algoma Record Herald
Blahnik Ed Coppersmith Rose Algoma 5/21/1926

http://ftp.rootsweb.com/pub/usgenweb/wi/kewaunee/newspapers/brid2449.txt
Algoma Record Herald - Marriage index alphabetically by bride 1924-1949

http://www.rootsweb.ancestry.com/~wikewaun/newcembe-bo.htm
7 BLAHNIK Edward 27 Sep 1906 08 Aug 1954 ossw/Rose
St Mary's Cath Cem Algoma