Son of George Blahnik 1813-1894 Algoma/Starec Family
JOHN (JOHANN NEPOMUK) BLAHNIK, SR.,
March 13, 1851, Starec #17, Bohemia, Austria-Hungary; d. November 25, 1938, Algoma, WI.
JOHN (JOHANN NEPOMUK) BLAHNIK, SR. (
GEORGIUS3
, JACOBUS2, WENCESLAUS1) was born March 13, 1851 in Starec #17, Bohemia, Austria-Hungary, and died November 25, 1938 in Algoma, WI (Source: Kewaunee County Records - Deaths, vol 11 pg 46.). He married (1) MARY TRISKA August 08, 1899, daughter of JOSEPH TRISKA and THERESA KOLAR. She was born March 11, 1851 in Bohemia, and died Jan 03, 1929. He married (2) MARY SCHNEIDER June 21, 1904 in Kewaunee Co, WI (Source: vol 1 page 30 Kewaunee Cty marriages). Notes for JOHN (JOHANN NEPOMUK) BLAHNIK, SR.: June 16, 1850 is not the accurate birthdate per Plzen records of Starec. Copy of his birth certificate was given on 20 April 1856 (for emmigration) More About JOHN (JOHANN NEPOMUK) BLAHNIK, SR.: Cause of Death: Pnenomia -senility (old age). More About MARY TRISKA: Cause of Death: pneunomia.


1915 Photos of John Blahnik Sr. and his wife Mary Triska from Wenzel F. Blahnik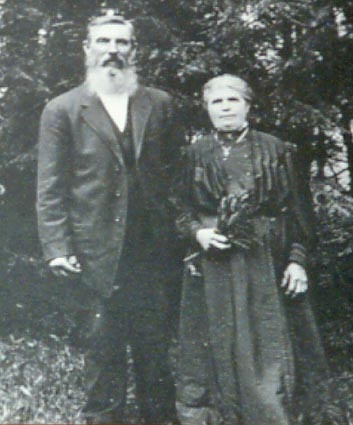 John's Naturalization Card
10/21/1878
U.S. Naturalization Record Indexes, 1791-1992 (Indexed in World Archives Project)
about John Blahnik
Name: John Blahnik
Birth Date: 1851
Birth Place: Bohemia
Age at event: 27
Court District: Illinois, Indiana, Wisconsin, Iowa
Year of Arrival: 1855
Date of Action: 21 Oct 1878
Obituary from the Algoma Record Herald Friday Dec 2, 1938 Vol 66, number 2 below:


EARLY PIONEER PASSES FRIDAY
______________________
Last of Blahnik Brothers Who Came Here in 1856, John, Dead
______________________
Another County pioneer passed away last week when John Blahnik, Sr. 88, last of the six Blahnik brothers, who settled with their parents in Ahnapee in 1856, died on the homestead farm Friday. Pneumonia caused his death.
Last tribute was paid Monday morning at funeral services from the Foley Funeral home at 9 o'clock and from the Immaculate Conception church at 9:30, the Rev. Byron Belanger officiating. Burial was made in the St. Mary's cemetery. Pallbearers were Albert Redlin, Joseph Shestock, Clem Blahnik, Anthony Blahnik, Wenzel Blahnik and Henry Meister.
Mr. Blahnik was born June 16, 1850, in Austria, the son of Mr. and Mrs. George Blahnik, who came to America with their six sons and one daughter in 1856. Their daughter died on the way over. The family came to Kewaunee county and on the Ahnapee farm now operated by John S. Blahnik they started to make a home and farm out of land covered with woods and stumps. The original buildings were built on the northwest corner of the present farm. Mr. Blahnik was the oldest man in the Immaculate Conception church congregation.
He married Miss Mary Triska in 1874, his wife preceding him in death n 1929. For several years, Mr. Blahnik has lived with his son, John S., in the Town of Ahnapee.
Surviving are two sons, John and Anton, both of Ahnapee, seven grandchildren and five great grandchildren. Another son, Joseph, preceded him in death.
Out-of-town persons at the final rites Monday were: Anton J. Blahnik, Fannie Blahnik, Mrs. John Bangert, Green Bay; Felix Blahnik and Joseph Blahnik, Carney, Mich; Mr. and Mrs. Joseph Kumbera, Mr. and Mrs. John Kumbera, Milwaukee; Lenader Blahnik, Joseph Blahnik and Ralph Blahnik, Kewaunee; Mike Blahnik, Menominee, Mich; Louis Blahnik, Kewaunee; Mr. and Mrs. Ervin A. Monk, Two Rivers' Mrs. Frances Adams, Rice Lake' Mr. and Mrs. Frank Fiala, Mr. and Mrs. Albert Redlin, Milwaukee, and Joseph Stodola, Pilsen.
Obituary from the Algoma Record Herald January 11, 1929


Obituary from the 1/11/1929 Algoma Record Herald

MRS. J. BLAHNIK DIED THURSDAY OF PNEUMONIA
Interment Made at St. Mary's Monday Morning
Mrs. John Blahnik, sr., for more than a half century a resident of this community, died at her home in this city Thursday evening of last week at 11:05 o'clock following a two week's illness with pneumonia. Mrs. Blahnik had always enjoyed good health until her last illness.
Funeral services were held Monday morning from the Church of the Immaculate Conception at 9:30 and interment was made at St. Mary's cemetery. The Rev. William Kraemer read the mass for the dead.
Mrs. John Blahnik, nee Mary Triska, was born in Bohemia Mar. 11, 1851. When ten years of age she came to America with her parents, the family first settling at Chicago, Thirteen years later she moved to this community. She was married to John Blahnik at Ahnapee in the autumn of 1875. Three children were born to this union, one of who preceded the mother in death.
Surviving are her husband, two sons, John Jr., Ahnapee, and Anton, Kodan, and seven grandchildren.

DESCENDENTS

..1

Georg BLAHNIK born November 08, 1813 Starec #17

Bohemia d.March 31, 1912 Ahnapee, Kewaunee Co. WI
...... +Katerina Blaha b. Apr 19, 1814 Hradiste #17, Parish of Lsteni, Bohemia d. Mar 7, 1892

Ahnapee, Kewaunee Co. WI , Feb 10, 1834

Parish Lsteni, Bohemia


..... 2 John (NEPOMUK) BLAHNIK, SR b: Mar 13, 1851 Starec #17, BOHEMIA (Czech) d: Nov 25, 1938 Algoma, WI, USA
.........+Mary Tresca/Treiska Ciska or Triska b: abt Mar 27, 1852 BOHEMIA m: Jan 11, 1876 St. Mary's Algoma, WI d: Jan 13, 1929 Algoma, WI


............ 3 Anton L. Blahnik b: Mar 10, 1882 Ahnapee, WI d: Aug 29, 1963 Algoma, WI


............... +Clara Schneider b: July 11, 1884 Pierce Twp, WI m: April 29, 1908 Kewaunee Co, WI d: Aug 29, 1952 Algoma, WI (daughter of Mathias and Clara Farrer Schneider)
............ 3 John Simon Blahnik, Jr : May 04, 1879 Ahnapee, Kewaunee Co., WI d: Feb 28, 1944 Ahnapee, WI


............... + Annie Clara Schneider b: 5/4/1879 Ahnapee, Kewaunee Co, WI m: June 28, 1913 Escanaba, Delta, MI d: April 28, 1912

(daughter of Mathias and Clara Tana)
............... + Katherine Kumbera b: July 11, 1885 Escanaba, Mi m: June 28, 1913 Escanaba, Delta, MI d: April 08, 1950 Algoma, WI
............ 3 Joseph Blahnik b: Nov 14, 1876 in Ahnapee, WI d: May 06, 1909 Oconto Falls, WI
............... +Katherine Kumbera b: July 11, 1885 Escanaba, MI m: May 01, 1907 Milwaukee, WI d: April 08, 1950 Algoma, WI (second husband, Joseph's brother, Anton)