ALGOMA BLAHNIK FAMILY
Oldest son of George Blahnik 1813-1894 Algoma/Starec Family
Mathias Blahnik
January 20, 1835 -September 19, 1911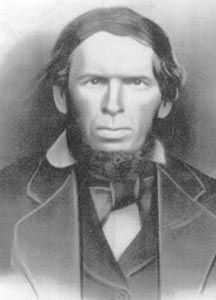 Mathias (Matous) Blahnik, Sr. 1835-1911
and his wife Frances (Franciska) Worachek (1838-1885)
Photo courtesy of Pat Staeven


1912 Casco Standard Atlas of Kewaunee Co Twp 24 N Range 24 East of the 4th P. M., p. 27.
Mathias and Joseph both own land in this area.
1910 census, Casco, Kewaunee Co., WI
Matt, Sr (Widowed) age 74 living with his son Matt Jr's family his nephew Thomas age 19 -said 1856 for year of immigration for Matt Sr.

Descendants of Mathias (Matje) Blahnik, Sr.
1. MATHIAS (MATJE)5 BLAHNIK, SR. (GEORG4, GEORGIUS3,
JACOBUS2, WENCESLAUS1) was born January 20, 1835 in Village Starec #17, Bohemia, Austria-Hungary (Source: SDA in Plzen, Czech., book 14 of the catholic parish Kdyne on page 39.), and died September 19, 1911 in Algoma, WI (Source: Vol 2 page 324 deaths Kewaunee Co.). He married (1) FRANCES (FRANCISKA) WORACHEK. She was born 1838, and died 1885. He married (2) MARGARET PINER/KARBON May 25, 1885 in Kewaunee County, WI (Source: Kewaunee County records Marriages, B-105.), daughter of JOSEPH PINER and ANNA KUGLE. He married (3) ANNA MACIROVSKI/MARZANC February 22, 1887 in Kewaunee County, WI (Source: Kewaunee County records Marriages, B-147.), daughter of LEOPOLD MACIROVSKI and BARBORA JANDA.
Notes for MATHIAS (MATJE) BLAHNIK, SR.:
Birthdate of April 16, 1836 is not accurate per records in Czech.
Per research from Francis Blahnik, Godparents: Mathias Kunst, the peasant cottage from Novy Klicov and Anna, his wife.
The later note: The copy of the birth certificate was given on 20.April 1856
More About MATHIAS (MATJE) BLAHNIK, SR.:
Baptism: January 20, 1835, Ad. Schimann, Dechant, midwife Anna Wondrusch
Cause of Death: cerebral hemorrhage.
Religion: Catholic
Announcement about Matt's death
9/22/1911 Kewaunee Enterprise, WI (last page)
Death of Matt Blahnik
Mr. Matt Blahnik, a resident of this County for fifty years. succumbed to the infirmities
of old age at the home of his son, Matt. in the town of Casco on Tuesday at the age of 73
years. He was buried at Slovan yesterday, a large concourse of sorrowing relatives and
friends following his remains to their last resting place.
(Note the retraction on the lower portion of photo
This gives one a feel for the time period

Announcement about Frances Worachek's death
Algoma Record 4/1/1886

The wife of Matt Blahnik died at her home in this town last week. Mrs. B. was sick only a few days.
She leaves a husband and large family to mourn her loss.


Photo of the Mathias Blahnik, Sr. family about 1876


DESCENDANTS

..1

Georg BLAHNIK born November 08, 1813 Starec #17

Bohemia d.March 31, 1912 Ahnapee, Kewaunee Co. WI
...... +Katerina Blaha b. Apr 19, 1814 Hradiste #17, Parish of Lsteni, Bohemia d. Mar 7, 1892

Ahnapee, Kewaunee Co. WI , Feb 10, 1834

Parish Lsteni, Bohemia


..... 2 MATHIAS (Matje) BLAHNIK, Sr. b: Jan 20, 1835 Village Starec #17, Bohemia, Austria-Hungary d: Sept19, 1911 in Algoma, WI
.........+Frances (Franciska Vracek) Worachek b: Nov 29, 1838 d: March 14, 1885 in Slovan, WI
............ 3 Frank (Franz) Blahnik b: October 14, 1863 in WI d: July 03, 1944 in Algoma, WI
............... +Mary (Sweiner) Schweiner b: July 13, 1867 in Bohemia m: Jan 31, 1888 in Kewaunee Co, WI d: April 09, 1904 Kewaunee Co, WI

(Daughter of Peter Schweiner and Johanna Fogitave)


...............*2nd Wife of Frank (Franz) Blahnik
............... +Anna (Aurea) Suchy b: 1869 in Bohemia m: Aug 17, 1904 in Kewaunee Co, WI d: 1942
............ 3 Thomas Blahnik b: Dec 30, 1862 in Casco, Kewaunee Co, WI d: Aug 20, 1916 in Casco, Kewaunee Co, WI
............... +Anna (Kuska) Kostka b: Dec 25, 1866 WI m: Aug 01, 1886 in Slovan, WI d: Jan 06, 1948 in Casco, Kewaunee Co, WI

(Daughter of Matthew Kostka and Anna Hruska)


............ 3 Charles (Charley) Blahnik b: September 24, 1864 in WI d: 1922 in Antigo, Langlade, WI
............... +Antoinette (Tony) Aulik b: June 22, 1869 Gibson, WI m: Feb 24, 1892 Tisch Mills, WI d: 1951 Antigo, Langlade, WI (Daughter of George and Maria Aulic)
............ 3 Albert John Blahnik b: Sept 16, 1866 Casco, WI d: Sept 17, 1908 Brown County, WI
............... +Anna (Mayaneck/Magmee) Mazanec b: Jan 28, 1873 in Bohemia m: Abt. 1890 d: Dec 24, 1952 in Brown Co, WI

(Daughter of John (Mayaneck) Mazanec and Anna Kacervske)


............ 3 Herman (Emanuel Emman) Blahnik b: Aug 15, 1868 Casco, WI d: Feb 28, 1928 Gourley Twp., Carney MI
............... +Catherine (Kate Schefchik Sevcik) Sefcik b: Sept 11, 1880 m: Nov 09, 1898 Montpelier, WI d: Jan 08, 1971 Gourley Twp., Carney MI

(Daughter of Anton Sevcik and Dorothy Keilhanek)


............ 3 Frances (Franceska) Blahnik b: Oct 25, 1870 Casco, WI d: Feb 25, 1964 Arpin, Wood Co., WI
............... +Robert (Brank) Brunk m: July 03, 1893 Kewaunee Co., WI (son of John Brunk and Minnie Kernik)
..............*2nd Husband of Frances (Franceska) Blahnik
............... +John F. Adams m: 1906 in Menominee, MI
............ 3 Mathias Blahnik, Jr. b: Oct 10, 1872 WI d: Feb 19, 1921
............... +Catherine Blazek b: Feb 1870 in Bohemia m: May 31, 1892 d: Feb 09, 1911
............ 3 Joseph Theodore Blahnik b: April 07, 1875 Algoma, WI d: Feb 14, 1952 Carney, MI
............... +Anna (Cerny/Cery) Cherney b: Sept 15, 1883 Luxemburg, WI m: June 30, 1919
............ 3 Rose Blahnik b: 1876 d. Unknown
............. 3 Rudolph Maria Blahnik b: Dec 07, 1877Casco, WI d: June 03, 1917 Gourley Twp, Carney, MI
............... +Anna (Cerny/Cery) Cherney b: Sept 15, 1883 Luxemburg, WI m: Nov 03, 1903 Montpelier, WI d: Mar 04, 1966 Carney, MI

(Daughter of Thomas Cherney and Maria Monicka Katzervask/Kenizerowski Kacerovsky)


............ 3 Maria Blahnik b: Aug 14, 1879 Pierce Twp, WI d: Sept 22, 1879 Kewaunee Co, WI
.. *2nd Wife of Mathias (Matje) Blahnik, Sr.:
.........+Margaret Piner/Karbon m: May 25, 1885 Kewaunee Co, WI
.. *3rd Wife of Mathias (Matje) Blahnik, Sr.:
.........+Anna Macirovski/Marzanc m: Feb 22, 1887 in Kewaunee Co, WI
............ 3 Amelia Blahnik b: 1902 d: 1902 in Kewaunee Co, WI