Son of Georg Blahnik 1813-1894 Algoma/Starec Family
George Blahnik 1841-1912 and Anna Sticka 1845-1921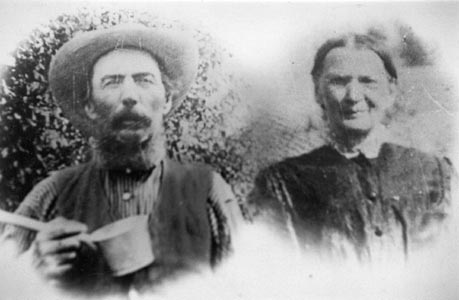 Descendants of George BLAHNIK
Generation No.5
1. G
EORGE5 BLAHNIK
(

G

EORG
4
,
G
EORGIUS
3
,
JACOBUS2, WENCESLAUS1) was born December 29, 1841 in (Village Starec #17?), Bohemia, Austria-Hungary, and died March 31, 1912 in Algoma, WI (Source: vol 2 page 426 deaths Kewaunee Cty). He is the son of George Blahnik born 1813 and Katerina Blaha born 1814 in Bohemia (Czech). He married ANNA STICKA, daughter of JOHN STICKA. She was born May 22, 1845 in Bohemia (Source: location per death record), and died July 22, 1921 in Kewaunee County, WI (Source: Kewaunee County Records - Deaths, vol 6, pg 139.).
Notes for GEORGE BLAHNIK: Uncertain of birth year - said to be age 15 in 1856. He used 1844 as his birth year in the USA. No record at SDA for his birth - assume same as siblings Burial: St. Mary's Cemetery, Algoma, WI Cause of Death: Aortas Regurgitation. Occupation: Farmer
Notes for ANNA STICKA:
Her parents were Jan (Stika) Sticka c1817 Jankov near Velky Cakov (SE of Praha) Bohemia -2/18/1893 Casco, WI and his wife Katharina Ouradnik 12/11/1815 (same village as husband) - 5/31/1888 Slovan, Casco. He came to Wisconsin before the Blahnik family arriving September 01, 1855 in America on the George William. He purchased and cleared farm land in Casco. Some documents say he was the first Czech immigrant to settle in Kewaunee County. On May 10, 1863 he donated land to the St. Adalbert Church for their Cemetery. John is buried in this Cemetery but he has no headstone.
Obituary of Anna Sticka Blahnik's father, John (immigrant) , from the Ahnapee Record Feb 23 1893


John Sticka, the oldest permanent resident of Casco, died at this home in that town last Saturday, of old age. He settled in that town about 38 years ago and ever since resided there, he was 73 years if age, Mr. Sticka was the father of Mrs. George Blahnik of Ahnapee. The funeral took place at the Catholic Church at Slovan, last Monday, Rev. Fr. Kohlar officiating


Obituary for George Blahnik from the Algoma Record Friday April 5, 1912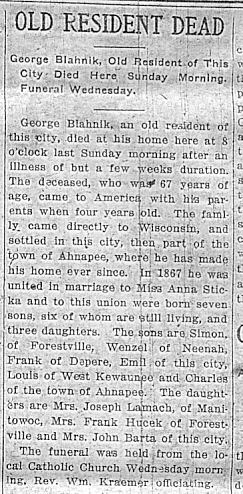 It should be noted that his birth year continues to be a bit vague. It says he immigrated with his family at age 4 but the Passenger list Bark Aeoleus out of Breman shows he was actually 15. Obituaries are reports from living people and perhaps the exact dates and ages were not real clear.
The ship listing for our Blahnik's arrival at the library in Green Bay, special collections. Also found by Francis Blahnik on microfilm with more information than Baca Books. It took a bit of work since the last name was mispelled (again).
Passenger list Bark Aeoleus or Peolas out of Breman. Docked in the port of NY 9/22/1856. Below is from the passenger lists Port of NY Sept 19 - Oct 18, 1856 roll 167 copy #M237

#184 Georg Blahling age 44 from Bohemia to Wiscony
#185 Catharine Blahling, age 40, ditto, wife of above
#186 Mathias Blahling, age 21, ditto
#187 Jacob Blahling, age 19, ditto
#188 George Blahling, age 15, ditto
#189 Joseph Blahling, age 10, ditto
#190 Johann Blahling, age 5, ditto


Blahnik PDF view of immigration from a listing found in Ancestry.com

Obituary for Anna Sticka Blahnik
July 29, 1921 Algoma Record Herald, Wisconsin
photo from collection of Bette (Blahnik) Nickasch
Children of GEORGE BLAHNIK and ANNA STICKA are:

..1

Georg BLAHNIK born November 08, 1813 Starec #17

Bohemia d.March 31, 1912 Ahnapee, Kewaunee Co. WI
...... +Katerina Blaha b. Apr 19, 1814 Hradiste #17, Parish of Lsteni, Bohemia d. Mar 7, 1892

Ahnapee, Kewaunee Co. WI , Feb 10, 1834

Parish Lsteni, Bohemia


........... 2 George BLAHNIK b: Dec29, 1842 (Village Starec #17?), Bohemia, Austria-Hungary d: Mar 31, 1912 Ahnapee (Algoma), WI
............... +Anna (Stejka Stika) STICKA b: May 22, 1845 in Bohemia m: 1862 d: July 22, 1921 in Kewaunee County, WI - daughter of immigrants John (Stika) STICKA Abt. 1817 -February 23, 1893 Casco, Kewauanee Co., WI and Catharina Abt. 1816 Bohemia-March 25, 1907
............ 3 Anna Blahnik b: June 14, 1865 d: April 21, 1905
............... + Joseph Anton Lamac, Jr. m: April 14, 1885 in St. Mary's, Algoma, Kewaunee Co, WI
................... 4 Emma Lamac
...................... +Rollie Billy
................... 4 Anton Lamac
................... 4 Julia Lamac
...................... +Unknown Fry
................... 4 Lillian Lamac
................... 4 Anna Lamac d: September 23, 1938


............ 3 Simon Blahnik, Sr. b: Oct 27, 1867 Algoma, WI d: Nov 11, 1942 Algoma, WI
............... + Anna Srnka b: May 20, 1873 Lincoln, Kewaunee Co, WI m: Aug 31, 1894 d: July 22, 1921 Gillette, WI
............ 3 Wenzel J. Blahnik b: Bet. Jan 20, 1869 - 1874 in Ahnapee, WI d: Jan06, 1948 in Algoma, Kewaunee County, WI
............... + Catherine (Kate) Trimble b: Abt. Dec 1877 in Algoma, WI m: Nov 27, 1894 in St Mary's Algoma, WI d: 1937
............ 3 George J. Blahnik, Jr. b: December 29, 1874 in Ahanapee, WI d: June 19, 1902 in Ahnapee, Kewaunee, Co., WI
............... + Theresa Blahnik b: 1873 in Bohemia m: June 01, 1897 in St. Mary's, Algoma, Kewaunee County, WI d: 1970

(From immigrant family of Adam Blahnik and Louise Spora)


............ 3 Frank John BLAHNIK b: May 23, 1876 in Ahnapee, Kewaunee, Co., WI d: June 23, 1942 in Neenah, WI
............... + Marie A. HOLUB b: Aug 10, 1879 Ahnapee, Kewaunee, Co., WI m: May 31, 1898 St. Mary's Church, Algoma, WI d: Jan 27, 1968 Neenah, WI
............ 3 Mary Blahnik b: 1878 d: 1878
............ 3 Emil Joseph Blahnik b: August 15, 1879 in Ahnapee, Kewaunee, Co., WI d: February 20, 1961 in Algoma, WI
............... + Anna Barta b: July 27, 1881 Ahnapee, Kewaunee, Co., WI m: Sept 11, 1900 St Mary's Church, Algoma, WI d: Sept 15, 1953 Algoma, WI
............ 3 Mary Blahnik b: October 13, 1881 in Ahnapee, Kewaunee, Co., WI d: May 13, 1954 in Algoma, WI
............... + Frank Hucek, Sr. b: Sept 1, 1880 Town Brussels, Door County, WI m: May 29, 1907 St Mary's Algoma, WI d: Nov 8, 1959 Algoma, WI
............ 3 Louis (Alois) Joseph Blahnik b: Oct 25, 1883 Ahnapee, Kewaunee, Co., WI d: March 18, 1962 Kewaunee Co, WI
............... + Libbie (Libuse) Ouradnik b: Feb16, 1888 Slovan, Casco, Kewaunee, WI m: April 03, 1907 Kewaunee Co, WI d: Sept 25, 1956
<![if !supportLineBreakNewLine]><![endif]> ............ 3 Charles Jacob Blahnik b: October 31, 1885 Ahnapee, Kewaunee, Co., WI d: January 25, 1962 Algoma, WI
............... + Annie (Palicek) Palecek b: Feb 13, 1890 Ahnapee, Kewaunee Co, WI m: June 11, 1907 Kewaunee Co, WI d: Jan 21, 1955 Algoma, WI


............ 3 Elizabeth (Libby) Blahnik b: May 13, 1888 d: 1947
............... + John E. Barta b: May 13, 1888 m: June 12, 1908 in St Mary, Algoma, WI d: 1963<![if !supportLineBreakNewLine]>
<![endif]>